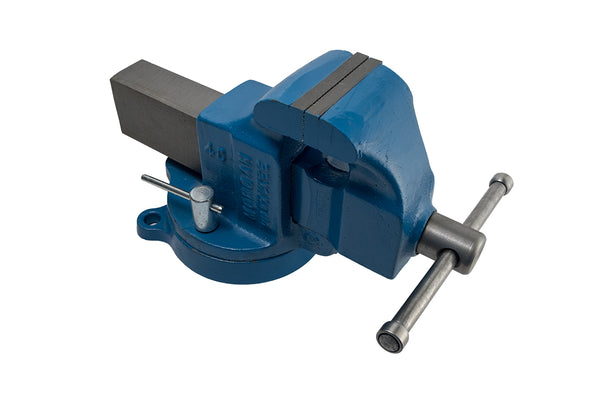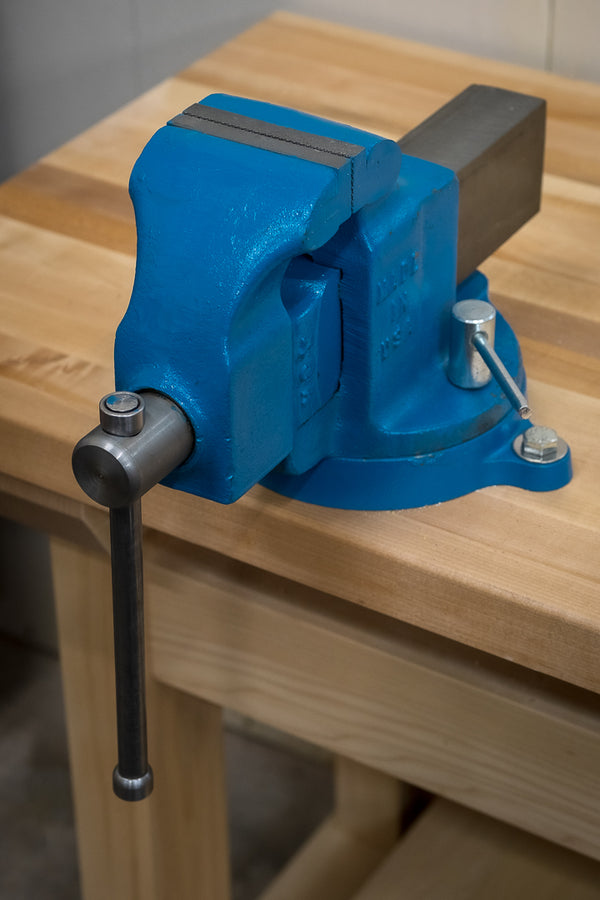 A vise of epic proportions.  These are significantly heavier than most other machinist style vises and will certainly outlast you.  The iron castings are impressively thick, the machining is precise and they are a real joy to use.  The replaceable steel jaws are held in place with cross pins instead of bolts.  This unique feature allows for a totally flat face (no bolt holes) for full gripping strength. 
Low profile 360 degree swivel base locks at any angle.  
No nonsense paint job and sand cast surface/ foundry grind marks are clearly visible, a vise built for daily hard use.  Manufactured with pride in Milwaukee, WI.
Note: We have a 4" vise in our shop and have found it to be an excellent general purpose size.  Then again nobody every complained about having too big of a vise.
Here's what Milwaukee Tool has to say about their vise:
"A heavy duty vise built to withstand the toughest of maintenance and production requirements. Constructed of high tensile grey iron and machined to close tolerances to assure true clamping at any opening. Easily replaceable hardened steel face jaws, steel screw and malleable iron nut are provided for a lifetime of service.  Low profile 360 degree swivel base locks at any angle. "
Meets all Federal Specifications: GGG-V-410 Type VI, Class III.
Vise Specifications:
Jaw Width - 3" (76mm) Model 130


Max Opening - 4" (101mm)
Throat Depth - 2-1/2" (63mm)
Weight - 34lb (15kg)

Jaw Width - 3-1/2" (89mm) Model 135


Max Opening - 5" (127mm)
Throat Depth - 2-3/4" (69mm)
Weight - 42lb (18kg)

Jaw Width - 4" (101mm) Model 140


Max Opening - 6" (152mm)
Throat Depth - 3-1/4" (82mm)
Weight - 58lb (26kg)

Jaw Width - 4-1/2" (114mm) Model 145


Max Opening - 7" (177mm)
Throat Depth - 3-1/2" (89mm)
Weight - 68lb (31kg)

Jaw Width - 5" (127mm) Model 150


Max Opening - 8" (203mm)
Throat Depth - 3-1/2" (89mm)
Weight - 91lb (41kg)

Jaw Width - 6" (152mm) Model 160


Max Opening - 10" (254mm)
Throat Depth - 4" (101mm)
Weight - 145lb (65kg)

Jaw Width - 8" (203mm) Model 180


Max Opening - 12" (304mm)

Throat Depth - 5-1/2" (139mm)
Weight - 210lb (95kg)
(Leadtime: These ship directly from the manufacturer.  Milwaukee Tool is currently experiencing production delays, 4+ weeks is to be expected for shipping although it sometimes takes quite a bit longer.  Payment is processed at the time of order.)